Mitochondria seem to be able to exist, in the form of free-living bacteria, without our help. But without them, we die in a matter of seconds. — Lyall Watson

Tweet
Aquaponics is a unique and efficient way of farming that combines two different types of agriculture – hydroponics and aquaculture. In aquaponics, plants are grown in a water-based environment, and fish are raised in tanks. The waste produced by the fish provides nutrients for the plants, and the plants help to filter the water for the fish. Aquaponics is a sustainable way to produce food, as it uses far less water and land than traditional methods of agriculture.
Aquaponics is a sustainable and efficient way of farming that can be used to produce both fish and vegetables. It is a popular choice for many farmers as it requires less space and resources than traditional farming methods. For an aquaponics system to function properly, it is essential to have the right kind of bacteria. These bacteria help to break down fish waste and convert it into nutrients that can be used by plants. Here is an explanation about bacteria basics in aquaponics – including the different types of bacteria and their role in the system.
1. What Are Bacteria?
Bacteria are single-celled microorganisms that are found in all environments on Earth. They are a type of living organism, and there are an estimated 5×1030 bacteria on our planet!
Bacteria are single-celled organisms that can live in many different environments. They can be found in the soil, water, plants, and animals. Most bacteria are harmless, but some can cause disease. They play a vital role in the Earth's ecosystems and are important in the decomposition of dead organisms. They are also used in the production of food and antibiotics, and keep animal digestive systems working properly to extract energy from food.
2. The 3 Types Of Bacteria In Aquaponics
In aquaponics, fish waste provides nutrients for the plants, and the plants help to purify the water for the fish.
Three main types of bacteria are essential to the aquaponics system: nitrifying bacteria, denitrifying bacteria, and scavenger bacteria. Nitrifying bacteria (sp. Nitrosomonas) convert waste ammonia into nitrites, which are then converted into nitrates by denitrifying bacteria (sp. Nitrobacter). Scavenger bacteria consume organic matter, such as fish waste and dead plant matter, and help to keep the water clean. It is important to have all three types of bacteria present.
3. The Role Of Bacteria In The Nitrogen Cycle
Without bacteria, the nitrogen cycle would not exist and life on Earth would not be possible. Bacteria play a vital role in the Nitrogen Cycle by fixing atmospheric nitrogen into a form that can be used by plants. This process, known as nitrogen fixation, is essential for the growth of all plants and animals.
Bacteria also play an important role in the Carbon Cycle. Bacteria are responsible for decomposing organic matter, which releases carbon dioxide into the atmosphere. This carbon dioxide is then used by plants for photosynthesis, and the cycle begins anew.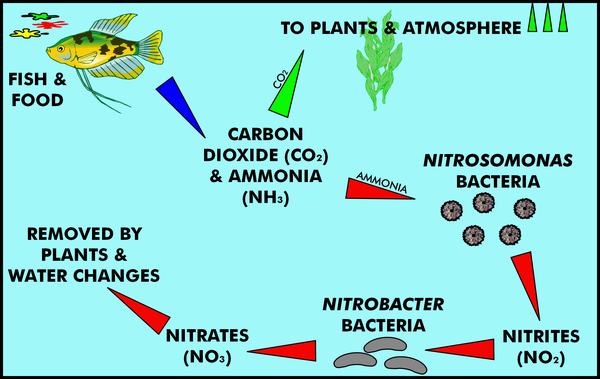 4. The Benefits Of Bacteria In Aquaponics
Bacteria are often thought of as being harmful to human health. However, bacteria are essential for the health of our planet and all life on Earth. Without them, the world would be a very different place.
Bacteria are important for the health of fish in aquaponics systems. Certain types of bacteria can help to break down fish waste, which can otherwise build up and pollute the water. Bacteria can also help to prevent the spread of disease in fish.
5. The Downside Of Bacteria In Aquaponics
Bacteria are essential for the cycling of nutrients in aquaponics, but they can also be harmful to plants and animals if they are not properly controlled. It is important to maintain a healthy balance of bacteria in any aquaponics system. Too much bacteria can lead to problems such as algae blooms, while too little can cause nutrient deficiencies.
It's important to do some research before starting an aquaponics system, and be prepared to manage the bacteria there. With a little effort, a healthy and productive aquaponics system can be created that will provide fresh food for years to come.
The I Will Projects, a 501(c)3 organization serving communities since 2014, believes in multiple solutions to address global challenges. Our IFIZ education programs focus on general aquaponics, growing microgreens and sprouts, and insect farming. These programs empower communities by expanding knowledge, developing collaboration, and advocating for sustainable innovation. Our aim is to contribute to a regenerative food system, ensuring access to healthy food and recognizing food as medicine. Click Here to Learn More.
About

The I Will Projects

Our mission is to empower communities through education, collaboration and sustainable innovation. We strive for equity and inclusivity in all partnerships, grounded in our shared belief in the inherent value of every individual.