Kale: A testament to nature's ability to pack power in every leaf.
Tweet
Why Your Kale Loves Aquaponics: An Exploration
Kale, the curly and vibrant leafy green, has transformed from a niche topic on health blogs to a staple on our kitchen tables. While its nutritional benefits are renowned, there's another aspect that plays a pivotal role in its healthy plant growth: the method of cultivation. Aquaponic systems, a sustainable method of farming, seem to be the secret behind this. Aquaponic gardens utilize nutrient-rich water, providing the perfect environment that meets the nutrient requirements of kale, especially in cooler temperatures. Dive with us into the depths of the aquaponic world as we explore the reasons behind its surging popularity among commercial growers and its unique ability to cater to the nutrient demands of our beloved kale.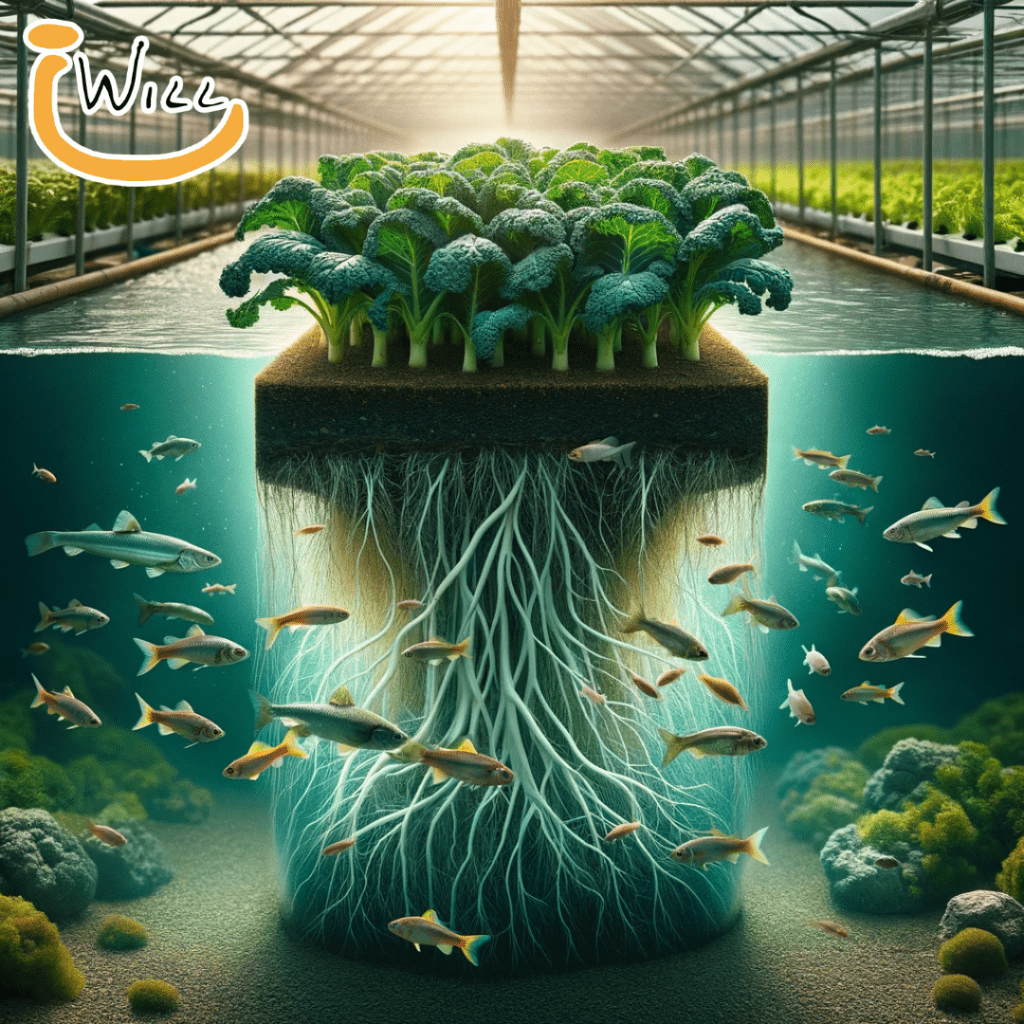 Introduction to Aquaponics
Remember the old saying, "killing two birds with one stone?" Aquaponics is nature's interpretation of that. At its core, aquaponics is an ingenious method that combines aquaculture (raising fish) and hydroponics (growing plants without soil) into a single, integrated system. But how does this all work, and what makes it so special?
The Science Behind Aquaponics
To truly appreciate aquaponics, we must first understand its underlying science.
The Symbiotic Relationship
Imagine a world where waste isn't waste but a treasure. In the aquaponics world, fish excrement is exactly that – a treasure trove of nutrients. While high concentrations of fish waste can be toxic for the fish, they're a gourmet meal for plants.
Nutrient Cycling
In this beautiful cycle, plants absorb these nutrients, which promotes their growth. Simultaneously, they purify the water by removing these excess nutrients, ensuring that the fish live in a clean environment. The cleaned water is then recirculated back to the fish tank, ensuring minimal wastage. It's nature's way of saying, "Waste not, want not!"
Benefits of Aquaponics for Kale
Aquaponics is a boon for many plants, but why does kale seem to have a unique affinity for it?
Faster Growth
With a constant, direct supply of nutrients, kale plants in an aquaponics system often outpace their soil-grown counterparts. This means you get to enjoy your kale salad or smoothie sooner!
Enhanced Nutrient Uptake
Due to the water-based environment, the kale's roots have direct access to nutrients. This not only makes the kale grow robustly but might also enhance its nutritional profile, making your meals even healthier.
Pest and Disease Resistance
Without soil, many soil-borne diseases become non-issues. Moreover, the absence of soil reduces the chances of pests that thrive in it. This can lead to a reduction in the need for pesticides, making your kale even more organic and healthy.
Comparing Traditional Farming with Aquaponics
Traditional farming, with its tilled fields and tractors, is what most of us visualize when we think of farming. But how does it stack up against aquaponics?
Water Usage
Aquaponics systems are champions of water conservation. The continuous recycling of water means that the system uses up to 90% less water than traditional farming. In a world where water scarcity is a growing concern, this is a significant advantage.
Soil Health
Traditional farming often demands fertilizers and pesticides, which can degrade soil quality over time. With aquaponics, soil health is a non-issue, as there's no soil involved! Plus, the absence of chemical run-offs means a happier, healthier environment.
Setting Up Your Own Aquaponics System
If all this talk about aquaponics has got you inspired, here's a primer on setting up your own system.
Essential Components
At its simplest, you'll need a fish tank and a grow bed. However, to optimize the system, consider adding a water pump for circulation and an aeration system to keep your fishy friends happy and healthy.
Choosing the Right Fish
While kale is the star of our show, the fish play a pivotal role. Popular choices include tilapia, goldfish, and catfish. Your choice would depend on your location, climate, and personal preference.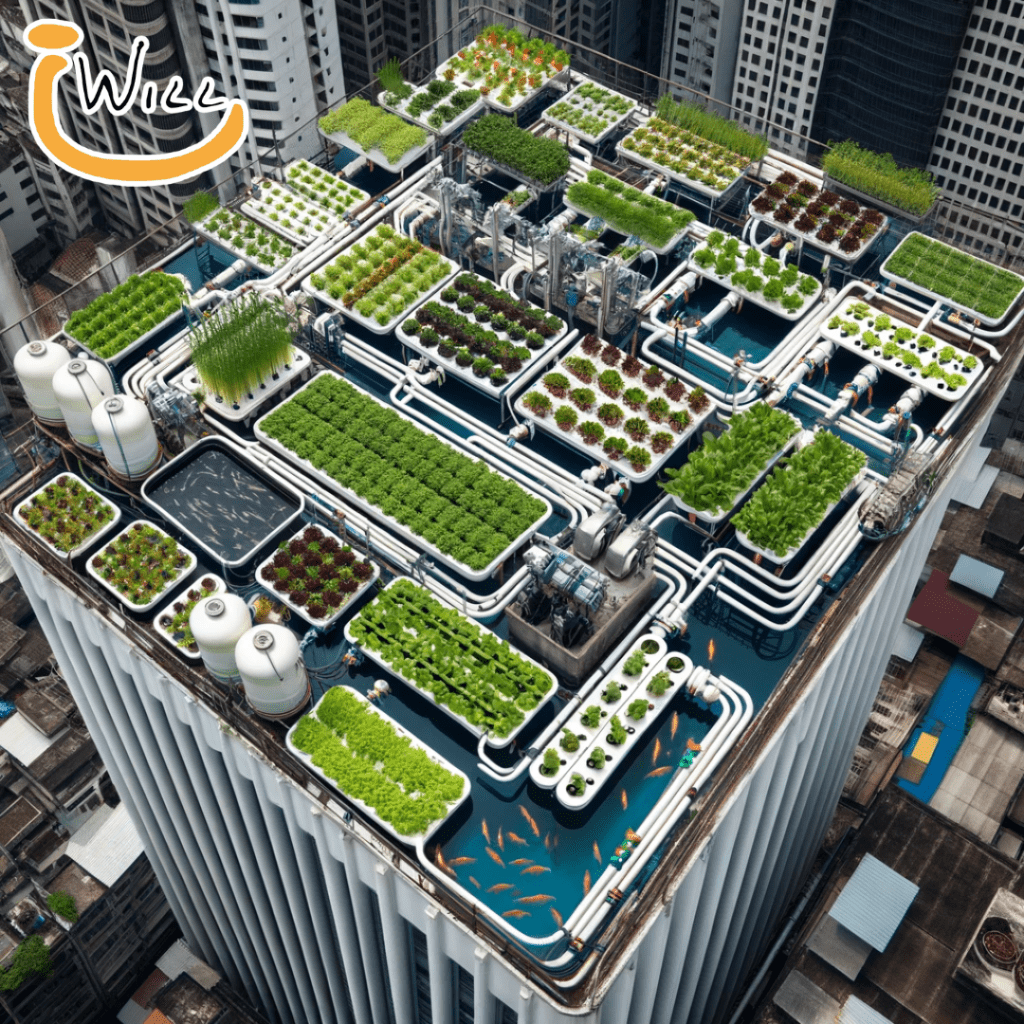 FAQs
Aquaponics is a sustainable farming method that combines aquaculture (raising fish) and hydroponics (growing plants without soil) into a single, integrated system.
How does kale benefit from aquaponics?
Kale benefits from aquaponics in several ways, including faster growth, enhanced nutrient uptake, and increased resistance to pests and diseases.
Is aquaponics a new farming technique?
While the concept has ancient roots, modern aquaponics as we know it has been refined and popularized over the last few decades.
Do I need a lot of space to set up an aquaponics system?
Not necessarily. Aquaponics systems can be tailored to fit spaces ranging from small balconies to large backyards.
What types of fish are suitable for aquaponics?
Common choices include tilapia, goldfish, and catfish. However, the best fish for your system may vary based on your location and specific needs.
Is the water from the fish tank directly used for the plants?
Yes, the water containing fish waste (rich in nutrients) is directed to the plants. The plants, in turn, filter and clean the water, which is then recirculated back to the fish tank.
How does aquaponics conserve water?
Aquaponics systems recycle water continuously, leading to significant water savings when compared to traditional farming methods.
Can I grow plants other than kale in an aquaponics system?
Absolutely! While kale thrives in aquaponics, many other plants like tomatoes, lettuce, and herbs also do well in such systems.
Are there any environmental benefits of aquaponics?
Yes, aquaponics uses less water, reduces the need for chemical fertilizers and pesticides, and avoids soil degradation, making it an eco-friendly farming option.
Do aquaponically grown vegetables taste different?
Many people find that veggies grown in aquaponics systems, including kale, have a fresher and more vibrant taste due to the constant supply of natural nutrients.
Conclusion and Future of Aquaponics
Why Your Kale Loves Aquaponics is not just a catchy headline; it's a testament to the synergy between leafy greens and the innovative aquaponics garden. Aquaponics isn't merely a contemporary farming method but a beacon for sustainable agriculture, championing efficient resource utilization. Kale, a nutrient-rich leafy green, has found its ideal environment in the aquaponics garden, especially with the cooler temperatures and controlled water temperature of indoor and outdoor aquaponics. While root vegetables have their place, kale stands out as a top choice for aquaponics, alongside microgreens and other fast-growing vegetables. These greens not only experience healthy growth due to optimal nutrient availability but also become culinary creations that are both delicious and nutritious. As we move forward, it's evident that aquaponics is shaping the future of farming, with kale thriving like it never has before.
The I Will Projects, a 501(c)3 organization serving communities since 2014, believes in multiple solutions to address global challenges. Our IFIZ education programs focus on general aquaponics, growing microgreens and sprouts, and insect farming. These programs empower communities by expanding knowledge, developing collaboration, and advocating for sustainable innovation. Our aim is to contribute to a regenerative food system, ensuring access to healthy food and recognizing food as medicine. Click Here to Learn More.
About

The I Will Projects

Our mission is to empower communities through education, collaboration and sustainable innovation. We strive for equity and inclusivity in all partnerships, grounded in our shared belief in the inherent value of every individual.